There is a display bug for the add-/view- buttons next to dropdowns when applying field.dropdown().fix() on fields placed in tabs.
The reason is that select2 dropdown container returns height = 0 in certain scenarios when applying the fix.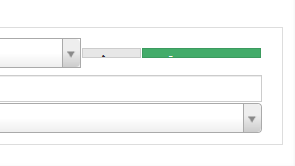 Additionally there is an inheited css style for overflow-x which may hide the add-/view- buttons in certain sizing-scenarios.
This bug will be fixed in next version which will be released probably in July 2020. We are sorry for any inconvenience!
Refers to:
Do you like it?
We can only get better if you give us constructive suggestions for improvement. Just voting "No" without giving reasons or suggestions is not helpful and cannot lead to changes. If you have been searching for a completely different solution than the subject says, this article can not be and will not be helpful for you. In these cases you should consider not to vote. This is website feedback, only. This voting is not a support form nor ticket system.